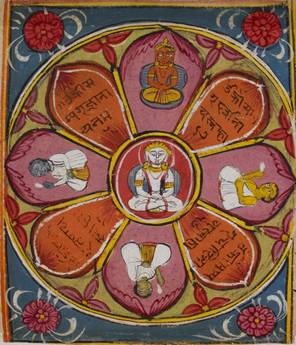 Aaso Maas Ayambil Oli - October 16 to 25
We are blessed to have two Samanijis from Jain Vishwa Bharti visiting us during the Aaso Maas Ayambil Oli Aradhana. Find below a brief introduction of the two Samanijis. If you are planning to do
Ayambil at temple
then
please RSVP
today for better preparations.
Samani Malay Pragyaji
is no stranger to JSMC. She gave us her blessings by gracing our 25th Anniversary Celebrations. Born in Orissa India in 1970, she was initiated as Samaniji in 1992. She hold M.A. in Prakrit and B.A. in Jainism and other philosophical systems. Having conducted 100's of camps in Preksha Meditation, Science of living and Anuvrat she is a highly respected teacher of Jain Vishwa Bharti university. She is well travelled in the world and has participated as speaker in many international conferences.
Samani Neeti Pragyaji
too blessed us during our 25th anniversary celebrations. Born in Assam India she was initiated as Samaniji in 2010. She holds M.A. in Jainology and comparative religion and philosophy. She is disciple of H.H. Acharya Shri Mahashramanji. She is an expert in Yoga, Meditation and has conducted many camps in the area of Jain Philosophy, Value Development, Personality Development, Time Management and so on.