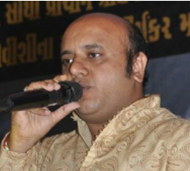 Aaso Maas Ayambil Oli - October 5 to 14
JSMC is honored to have
Panditvarya Shri Parasbhai Shah
during Ayambil Oli Aaradhana who was with us during 2018 Chaitri Maas Ayambil Oli. He has studied Jain Philosophy at Yashovijayji Jain Sanskrit Pathshala in Mahesana, Gujarat and in 2001 obtained Sidhdhipatrak. He has imparted knowledge to more than 300 Sadhu and Sadhvi Maharaj, anchored more than 33 Diksha Programs and guided many Diksharthis. He has also handled many poojans and aaradhanas including Pratistha Mahotsav, Anjan Shalaka, 18 Abhishek, Gautam Labdhi, Ashtaprakari, 108 Parshva Padmavati, Navgraha, Laghu Shanti Snatra, 12 Vrata, etc.
Daily Ayambils have been arranged starting from Sat, Oct 5 to Sun, Oct 13.
Please
RSVP
if you are interested in doing Ayambil at the temple
.
Anonymous Donor Family

for sponsoring

the entire Ayambil Oli

Umeta Sambha Jain Samaj

for sponsoring

Ayambil Oli

Anonymous Donor Family

for sponsoring

Ayambil Oli
Additional Sponsorship of $1,001 or more per family is welcomed
. Multiple families can participate.
Find below lecture topics during Ayambil Oli.