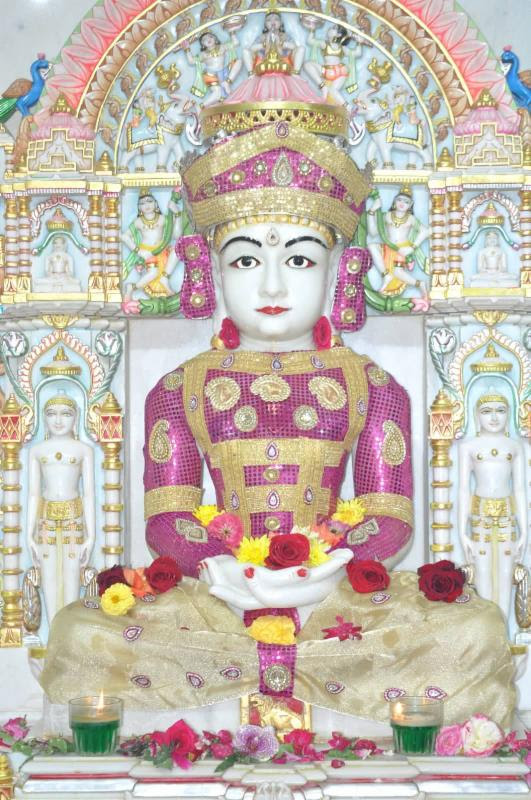 Parvadhiraj Paryushan Mahaparva
September 3rd to September 10th
Shri Nirmal Sagar
Ji
is a native of Rajkot was initiated in 1978 as a Shvetämbar Sädhu under Guruji Shree Padmasagarji Mahäräj Säheb. During 20 years of dikshä, he studied Jain scriptures extensively. He has also studied Hinduism and Buddhism. In the year 2000, after becoming a religious preceptor he has traveled to Bangkok, Hong Kong, Japan, UAE and the USA delivering discourses on Jain philosophy during Shibirs and Paryushan Parva. He has done many Pratistha in India & USA. He started pathshala in Bangkok ande has established the Yoga Sädhanä centre at Mount Abu where he teaches meditation.
Shri Harshbhai Shah
will be our Vidhikar during Paryushan, he currently resides in Canada. Shri Harshbhia has a Master's degree in Structural Engineering from Canada. He has studied Jainism and depth knowledge in Ppratikraman, Poojans, 27 Bhav Stavan and Mahavir Swami Halardu. He has done many Paryushan as Vidhikar in India and US.
We are happy to launch
Gyan Prabhavana sponsorship at $504 per family
for
Paryushan
&
Das Laxana Maha Parva
. We have 14 opportunities available for Paryushan Maha Parva.
Samvatsari Pratikraman Sutra Gheeboli
We will have SILENT Gheeboli for all Samvatsari Pratikraman Sutras in both Gents and Ladies Pratikramans.

Interested members can participate in Gheebolis by increasing the amount on desired Sutra(s) silently at the office.

You will be able to learn the status of your Gheeboli and can increase the amount (if desired) until the final award is made just prior to Pratikraman Swadhyay.

We request your support and cooperation
Contact any committee members for additional questions
Samvatsari Pratikraman Details
Friday, September 10, 2021
2:00 PM – Parents of Infents & Toddler – Pathshala Rooms

4:30 PM - Samvatsari Pratikraman Swadhyay

conducted by Hashbhai Shah

6:00 PM – Men Shwetambar – Old Prayer Hall

6:00 PM – Women Shwetambar – New Prayer Hall

6:00 PM – Sthanakvasi – Old Dinning Area

6:00 PM – English Pratikraman – Pathshala Rooms & Zoom (ID: 4196375704 and passcode: 1008)
6:00PM – Kachchi Pratikraman – Upashraya
સંવત્સરી પ્રતિક્રમણ ડિટેઈલ્સ ગુજરાતીમાં
2:00 PM - નાના બાળકો ના માતા પિતા માટે - પાઠશાળા રૂમ

4:30 PM - સંવત્સરી પ્રતિક્રમણ સ્વાધ્યાય

6:00 PM - ભાઈઓ નું શ્વેતામ્બર - જૂનો પ્રેયર હોલ

6:00 PM - બહેનો નું શ્વેતામ્બર - નવો પ્રેયર હોલ

6:00 PM - સ્થાનકવાસી - જૂનો ડાઇનિંગ હોલ

6:00 PM - યુવા - પાઠશાળા રૂમ
6:00 PM – ક્ચ્છચી – ઉપાશ્રય
PLEASE Ensure that you have your Vaccination Card OR RT-PCR negative report, done prior to 72 hours, with you when you come to Temple tomorrow.