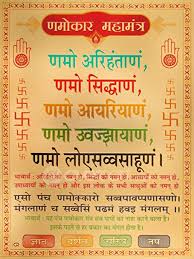 Shree Namaskär Mahämantra Poojan
Sunday, April 2nd, 2023 @ 1:30pm
Shree Namaskär Mahämantra, paying reverence to Pancha Paramesthi, illuminates and awakens the divine qualities of the soul just by reciting it. It is an eternal expression of perfection. In this Pujan we will worship its 68 auspicious letters, Shree Ganadhara Bhagavants,16 goddesses of knowledge, and 8 divine power. You are invited to join in this unique Pujan that will shower us with bliss to strengthen our Samyaktva.
This year the poojan will be conducted under the auspicious guidance of Pandit Shri Parasbhai Shah. To participate in this Poojan Fixed Nakro for Main Pithikas is $351 (only 5 pithikas available) and Small Pithikas is only $51 (Only 20 available). Click the button below to reserve your Pithika.
જે મહામંત્રાધિરાજ છે, જે વિશ્વના સર્વ જીવોને માંગલ્યકારી છે,જેને તીર્થંકરો પણ આર્ષદ્ર્ષ્ટા કહે છે,જે પરાવાણીમાંથી સંભળાયેલ છે, જેના સ્મરણ માત્રથી આપદાઓ વિનાશ પામે છે, જેના થકી ચોમેર વિશ્વશાંતિ ફેલાય છે, એવા શ્રી પંચમંગલ મહાશ્રુતસ્કંધ એટલે નમસ્કાર મહામંત્ર પૂજન.
જે પૂજનમાં નવકારના ૬૮ અક્ષરોનું, ગણધર ભગવંતનું,૧૬ વિદ્યાદેવીનું, અને ૮ મહાસિધ્ધિનું પૂજન થશે. નમસ્કાર મહામંત્રના યંત્ર ઉપર વિશિષ્ટ શ્રધ્ધાના પ્રતિક સમા ૧-૧ અક્ષરોથી પવિત્ર આત્મા ઉપર આત્મોત્થાનનું સહૃદય પંચ માંગલ્ય સ્વરૂપતાની સિધ્ધિ થશે. એવા આ મહા પૂજનમાં સપરિવાર પધારી આપણા જીવનની મંગલમાળાને પવિત્રતમ કરીએ.