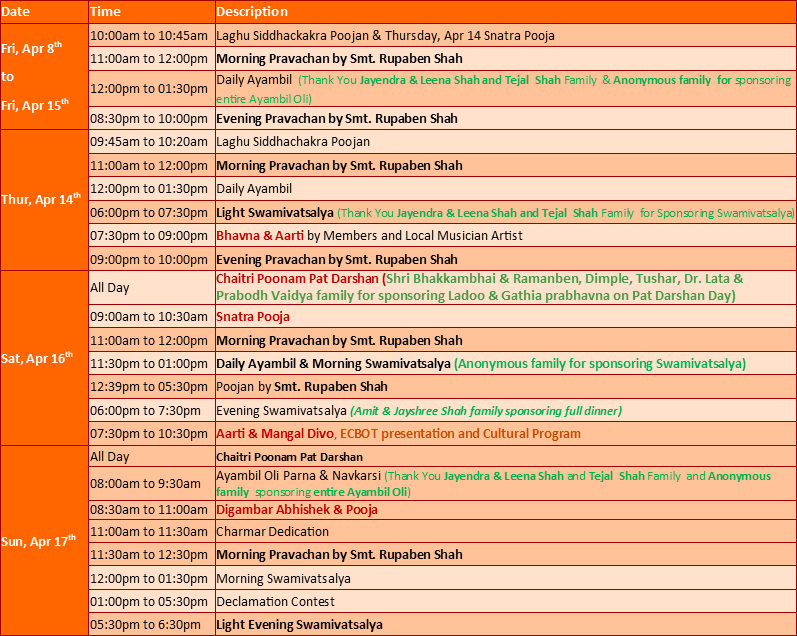 Mahavir Janma Kalyanak (MJK)
Let us celebrate the Birth Anniversary of our Mulnayak Shree Mahavir Swami.
Mahavir Janma Kalyanak Cultural Show is scheduled for Saturday, April 16,
2022.
This year Mahavir Janma Kalyanak celebration will be in person.
MJK Cultural Program Guidelines
Registration Deadline: Sunday, March 13, 2022.

​

Register your entry by clicking

HERE.

​

Song(s) and Music must be appropriate for performing at JSMC.​

Song(s) selected

MUST

be approved by a

JSMC screening team

. Please make sure to upload your song while registering your entry for approval before starting any practice.

ECBOT may reject the performance for any unapproved song.

Performances should not exceed 5 minutes​.

Only a limited number of entries will be accommodated on a first come first serve basis due to time constraints​.

Group performances will be given preference over individual performances. Individual performances will be considered only if 10 entries are not registered by

Sunday, March 13, 2022

.​​

A group performance must have a minimum of 6 performers.​

To participate in the Pathshala Class group dance, you must be a registered Pathshala student. ​

Stage timings for practice sessions need to be reserved with

Vice President

​.

On Rental days, the stage will not be available for practice​.

Starting Friday, April 8, 2022, the Stage will not be available for practice when Pravachans are in session.​

Ensure that the sound quality of your song track is good and submit a copy of the song to Vice President, latest by Friday, April 1, 2022.

GRAND REHEARSAL

of the program is tentatively scheduled for

Sunday, April 10, 2022.

All participants are required to be present on Grand Rehearsal Day.